Sled Season International Kickoff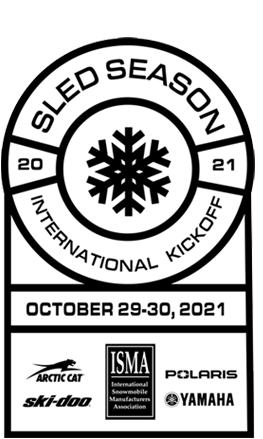 Get this winter started right with the inaugural
Sled Season International Kickoff October 29 – 30, 2021!
Based on Sweden's longstanding 'Day of Snowmobile' celebration, Sled Season Kickoff is a celebration that brings together the riding community in preparation for an exciting winter.
Why?
Last season saw an incredible increase in the number of new riders, let's welcome them to the community for a fun weekend to celebrate the start of the snowmobile season across North America.
What Is It?
The snowmobile clubs, associations, dealers, groups and manufacturers across North America will hold events to "kick off" the upcoming snowmobile season. An event may consist of activities such as:
New product displays
Membership and trail permit sales
Volunteer recruitment
Vintage sled displays
Show N' Shines
Halloween costume contest
Live music
Food
Games
Safety information
Giveaways
Accessories, gear and equipment suppliers
Media, tourism and hospitality industry contacts
When?
October 29 – 30, 2021
Where?
Contact your local snowmobile dealer or club. They can advise if an event is happening in your area. Regional events will happen all across North America to celebrate snowmobiling!
You can find your local dealer and snowmobile clubs by clicking on the links below.
Dealers
Snowmobile Associations and Organizations
Event logos

Click to download the following formats

Click to download the following formats

Social media graphics Spread the word about the Sled Season International Kickoff by posting to your social media platforms!
Download social media manual
Letter to snowmobile clubs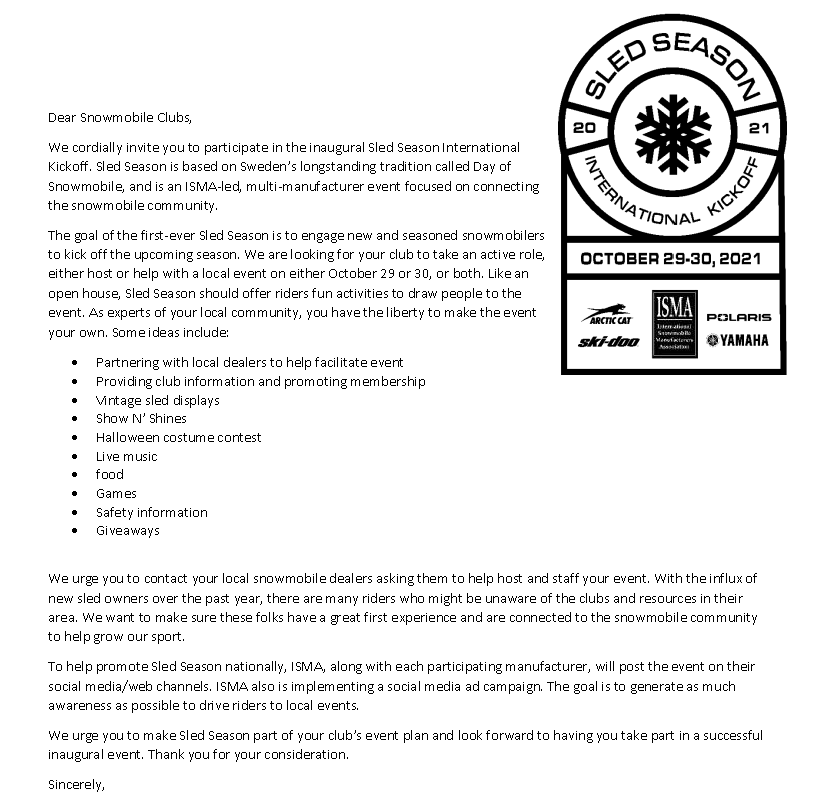 Click to download